Итак, как вы уже поняли - сейчас будут новости с Елисейских полей.



[

Spoiler (click to open)

]


https://www.bloomberg.com/news/articles/2018-02-12/3-5-million-jobless-and-french-companies-still-can-t-find-staff

The crunch is particularly acute for Patrice Parisot, who runs a Figeac-Aero plant in Auxerre. Despite running ads, organizing job dating events and offering training, few applicants call, fewer turn up, and the factory is short of operators for its brand new machines. That's left deliveries running late and the company saddled with 75 million euros ($92 million) of orders, which none of its seven French sites can take on.
"I just don't know who to turn to anymore," he said.

Заметим, что это вовсе не хухры-мухры и гараж по ремонту "Антилоп", а поставщик деталей для Airbus.
И если уже они говорят, что у них опустились руки, потому что перепробовали все, и не работает НИЧЕГО, в смысле - никакие варианты привлечения работяг... то это уже амба.

А вот это кардиограмма этой амбы.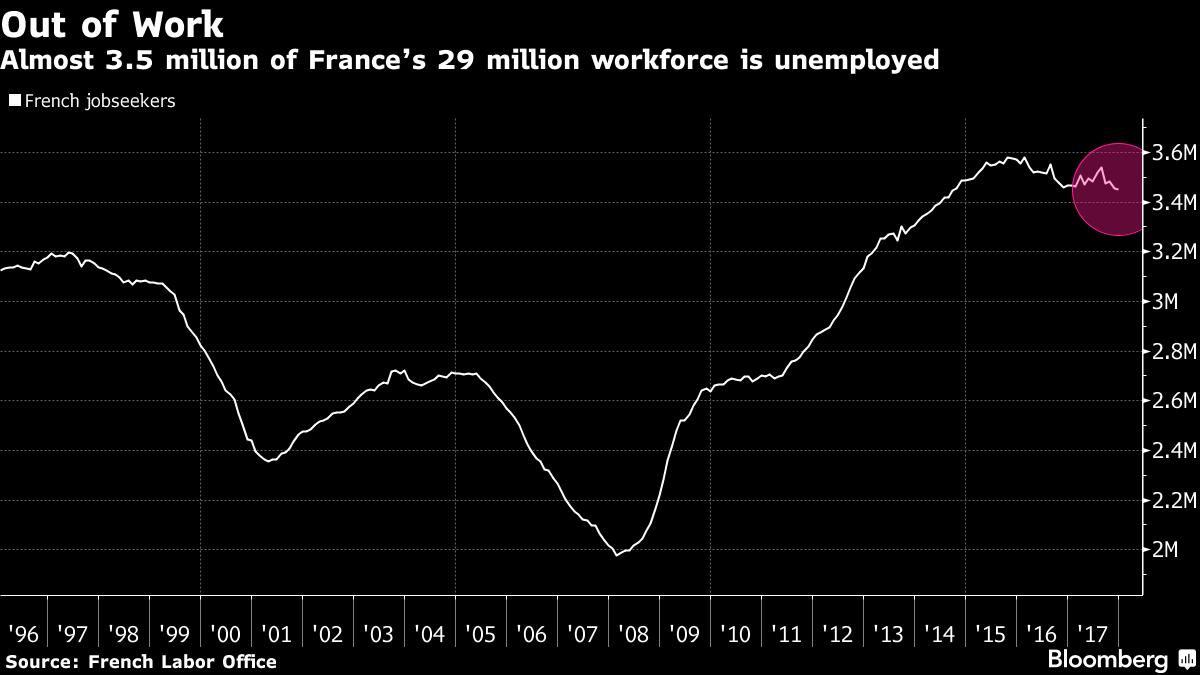 Более 10%, или 3.5 миллиона безработных при страшном дефиците кадров на предприятиях.

Ну а теперь, дадим слово самим утопающим.

In Cholet, Western France, a poll by employers' lobby Medef uncovered 1,916 unfilled positions last year versus the region's 4,500 job seekers. Three quarters of the reasons mentioned by companies cited behavior issues such as lack of diligence, punctuality or eagerness.
"People adapt their careers to their personal wishes, not the other way round" ...

Эффект недоперезанятости, хоть в рамочку ставь и на стенку вешай.
Заметим, как все перевернулось кверх ногами. А скорее наоборот, с головы на ноги становится.

А теперь дадим слово... конечно же профсоюзам.

Unions say that low pay and unsuitable working conditions are part of the problem.
"People don't come and they don't stay either," said Jeremy Gargaros, a member of the CGT union who trains machine operators at Figeac-Aero's largest plant in the town of Figeac, southern France.
Qualified and experienced newcomers balk at lower than expected pay while those learning the trade are quickly overwhelmed by the pressure to churn out faultless parts, he said. "They'll run the minute there's a choice. Many will even opt for less pay to escape irregular shifts, long hours and noise."

По мнению профсоюзов, различные особенности промышленного производства, которые делают сию работу менее приятной чем сервировка суши в баре - должны оплачиваться по ставке профессоров Сорбонны. :)
Если я утрировал, то совсем немного.